Observe BRUCE at this Obtuse Angle:
This tabby fellow is handsome & relaxed in his Petsmart Huntington window enclosure. Look at his pink nose & fancy two-tone toe beans.
Now picture him in this same silly pose at YOUR HOUSE.
BRUCE is 6 months old. Two months ago, he and his gray tabby sister JEN were rescued off the street in Huntington Station.
They each hope to be adopted soon-either together or separately -where they can get purrsonal attention & affection in a real home rather than a temporary window enclosure.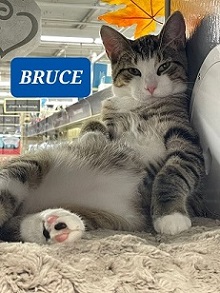 I've found my forever home! Thank you!