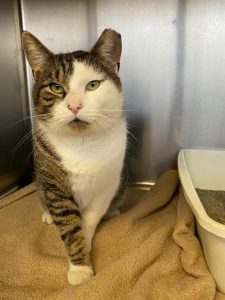 BRUISER Wishes for a Brighter New Year
BRUISER- about 7 years old- deserves the chance to become cherished & hopefully healthier…
BRUISER a big, friendly 17 lb. tabby tried to walk into someone's Hicksville home.
It was his feline way of saying: "I am not feral. I enjoy the company of people, & really would like a warm home & family to call my own."
John D. (cat trapper extraordinaire) was called. He didn't have to trap mushy BRUISER.
He picked him up & took the tabby to be neutered…Yes, BRUISER's eartip is brand new.
At a Last Hope intake clinic, our vet discovered BRUISER has a Double Whammy!
Not only is this big boy FIV positive, but he also has a pretty severe heart murmur.
He is safe with Last Hope, but will need further cardiac evaluation.
In the meantime, we are looking for a home for BRUISER where he can be warm, comfy & loved.
To meet BRUISER by appointment at Last Hope in Wantagh, please complete and submit a cat adoption application found on the Last Hope website homepage.
I've found my forever home! Thank you!