BUNNY is a Honey.
This tiny tabby is making her Adoption Debut. She was spayed 1 week ago, and is now ready for Prime Time.
BUNNY was trapped & rescued at 6 weeks old. This petite cutie is 2.5 months old as of today.
When she is adopted, BUNNY will bring her pink bunny lying next to her. She hopes her new family doesn't mind having an extra mouth to feed. The toy bunny doesn't eat much.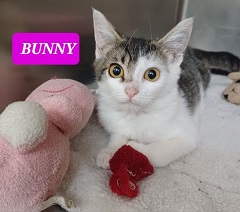 I've found my forever home! Thank you!