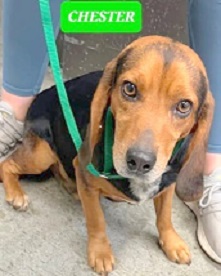 BRING IN THE BEAGLES!
YES, 5 BEAGLES- recently rescued from a Beagle-overcrowded Kentucky shelter- arrived at Last Hope in Wantagh on the same Kentucky transport at the start of January 2023..
CHESTER, a handsome 3 year old Beagle from Bowling Green, KY represents our newest Beagle Bunch- FARLEY, PIXIE, RICHIE, MOLLY & CHESTER.
We hope to match these 5 under-appreciated pups with people who will cherish them forever.
Do YOU want to cherish one of the newest Beagle Bunch?
CHESTER is as sweet as he is handsome.
Take a look at the photo, then visit Last Hope to see CHESTER the real Beagle deal.
I've found my forever home! Thank you!