CHRISSY is PRISSY. She is always dressed in Basic Black which Looks so Classy against her White Toe Beans.

Her Fashion Sense is Avant-garde
for Kitten not yet 7 months old.

 CHRISSY was rescued in Brentwood at 14 weeks old with her sister JANET (getting spayed today) & her brother and cagemate MR. ROPER.

Presently, CHRISSY & Cat Company are residing at our Wantagh Cat Center. CHRISSY is friendly, stylish & her schedule is flexible. She can be packed & ready to move as soon as she has an approved adoption application.

Can YOU Make That Happen Soooon?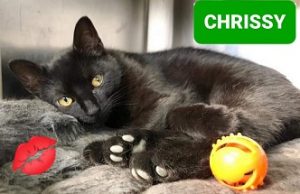 I've found my forever home! Thank you!