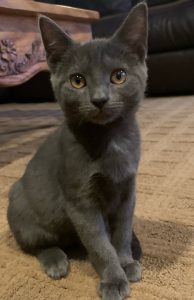 Are you looking for your very own princess….yes? You are in luck.
Meet CINDERELLA- a princess without a castle…oh no.
Cinderella is an extremely affectionate, loving and playful little girl who loves everyone she meets. She was rescued with her siblings and lovingly fostered.
All of her siblings have been adopted and now Princess Cinderella is waiting for her chance
Cinderella is about 3 months old and has the sweetest personality.
Her foster mom has taken excellent care of her and now it is her turn to have a happily ever after.
If you are interested in adopting Cinderella, please fill out an adoption application from the home page.
I've found my forever home! Thank you!