Last Hope has Welcomed COPPER.
When adopted from us, he will be able to "LIVE, LAUGH, WAG" like the sign says at his sending shelter .
COPPER was a portly pup passenger on the transport from Amherst Humane in Virginia.
This handsome Beagle is between 4-5 years old. He is a bit chubby.
Here is his background story from Virginia which in part explains his hefty weight:
"COPPER was left behind when his owner moved 6 months ago. All the neighbors were feeding him.
An old gentleman was his main feeder but he's not in good health so his family was against the elderly man adopting him.
That's how COPPER wound up at our shelter in Virginia. "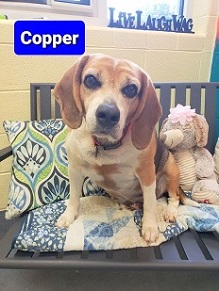 I've found my forever home! Thank you!