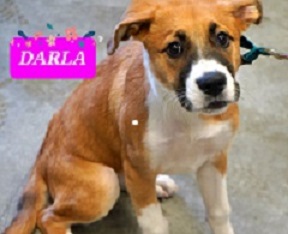 DARLA is an Adorable Lil' Rascal brought to Last Hope on a Kentucky rescue transport.
She is only 4 months old, and possibly a lively blend of Boxer & Shepherd.
DARLA is young enough to be shaped positively by her future with no dwelling on her past homelessness or shelter stay.
Meet DARLA this weekend at Last Hope Dog Adoption Center in Wantagh.. She is one of 12 new Southern dogs headed our way.
I've found my forever home! Thank you!