Tiny DEBRA Will Fill Your Heart with LOVE.
This pretty Chihuahua came to Last Hope over the weekend as an unclaimed stray from Town of Oyster Bay Shelter.
She seems to be an older gal, about 10, who has had multiple litters.
Supposedly a Good Samaritan found DEBRA late one July night wandering by the McDonald's in the T J MAXX Shopping Center on the Massapequa & Amityville border off Sunrise. She was taken to a 24 hr Animal Emergency Hospital to be held overnight & transferred to Oyster Bay Shelter in the morning. No one claimed her.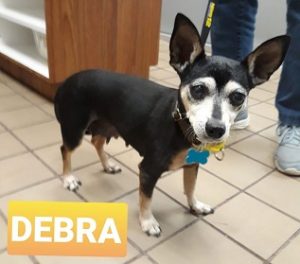 DEBRA warms up to new people quickly & definitely loves her treats. She needs a home without young kids.
She is still a Beauty, yet must have been Stunning in her younger days.
DEBRA needs someone who will consider her a Cherished Chihuahua rather than a Discarded Puppy Maker.
To meet DEBRA by appointment at Last Hope in Wantagh, please complete & submit a dog adoption application found on the Last Hope website homepage.
I've found my forever home! Thank you!