Say Howdy to DIXIE MAE .
She is a pleasantly plump 6 year old Beagle from a Kentucky shelter. DIXIE MAE weighs 38 lbs. She'd love to be your pleasant canine life partner & your pleasant Weight Watchers partner . She is Beaglicious!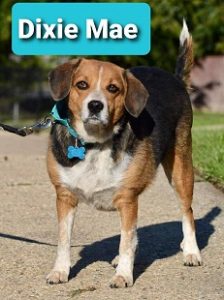 To meet DIXIE MAE by appointment at Last Hope in Wantagh, please complete and submit a dog adoption application found on the Last Hope website homepage.
I've found my forever home! Thank you!