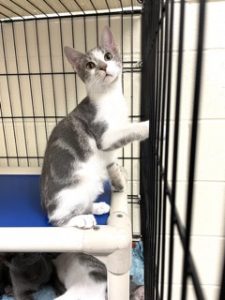 Snow White had some babies and we bet you can guess their names.
Meet Happy, Sneezy, Sleepy, Doc, and Bashful!
The little dwarves are ready to leave the nest and go home with their forever families. These babies are as sweet as can be. They are eager to say hello and greet anyone that walks by to say hi to them. If you're looking for the purrfect companion, look no further…
Don't hesitate because they won't be around long…..
DOC is at Petsmart Syosset.
If you are interested in learning more about them, please send us an email to lasthopeadoptions@gmail.com or fill out an application from our website.
I've found my forever home! Thank you!