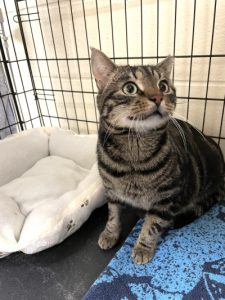 LOOK at ECLIPSE! Yes, it is safe to stare at a feline ECLIPSE. He is only 1 year old, survived 2 horrible ordeals- yet remains such a friendly fellow.
ECLIPSE was rescued in January after he & 21 other cats were abandoned outside of their former home in Medford. He had a rear leg that had been fractured somehow in multiple places. Hit by Car? Or a Different Trauma?
Just 10 days after coming to Last Hope, ECLIPSE's leg was repaired at Animal Surgical Center. ECLIPSE recovered in foster care on pain meds til his recent return to Last Hope. Presently, our ECLIPSE will capture your undivided attention if you gaze at him in the first cage as you enter the Last Hope Adoption Skyway.
If you are interested in learning more about him, please send us an email to lasthopeadoptions@gmail.com or fill out an application from our website.
Come visit me at the Adoption Center in Wantagh, New York.
[contact-form-7 id="18343" title="mfmchugh"]