Can EDDIE Be Your Canine Best Pal?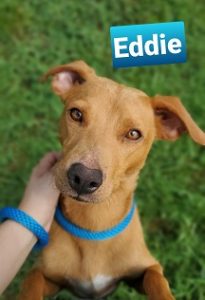 This 29 pound Feist mix arrived at Last Hope in Wantagh from a Georgia shelter.
His sending shelter reports:
"EDDIE came in to our shelter with a leg/foot injury. We have been treating him with antibiotics per our vet's recommendation.
He is doing much better and only has a small amount of swelling in his toes. The rest of his swelling has gone down and his wounds are healing up nicely.
EDDIE is dog and cat friendly and loves life! He is a happy boy who is looking for his second chance. "
Funny thing is despite EDDIE's healing foot injury, he has plenty of puppy energy, and would do really well with an active family.
I've found my forever home! Thank you!