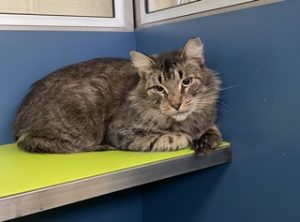 FERGUSON is a Handsome & Amiable Feline.
This semi-longhaired tabby belongs to a trio of 2 year old cats (MURPHY & TRISHA too) with Fabulous Purrsonalities who were rescued from an Amoco station in Islip Terrace.
FERGUSON will add finesse & fun to your life, and, at the same time, you will be giving him the best gift a cat can get- a Real Home. Adopt him from Last Hope in Wantagh.
If you are interested in learning more about him, please send us an email to lasthopeadoptions@gmail.com or fill out an application from our website.
I've found my forever home! Thank you!