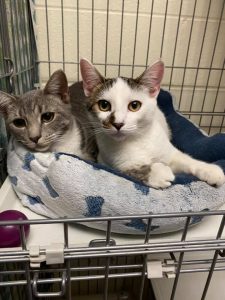 FIN & LOKI are looking out at a new world that bewilders them somewhat. Together by SHARING, we can help them appreciate this serene setting among kind people.
These 7 month old brothers were recently rescued in Hicksville & fostered briefly by their rescuer. The boys are loving but understandably shy.
For months their focus was to survive out on the streets. They had no place to relax completely.
Presently FIN (grey tabby) & LOKI (white with tabby patches) are in a cage at our Wantagh Cat Center.
Instead of needing to forage for food & shelter, FIN & LOKI need a bit more time & TLC to settle & soak up the love of Last Hope volunteers surrounding them.
A quiet Home would even be better, especially if they go there together.
To meet FIN & LOKI by appointment, please complete and submit a cat adoption application found on the Last Hope homepage.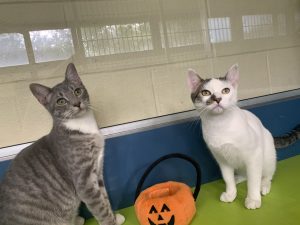 I've found my forever home! Thank you!