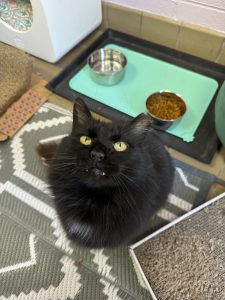 FLUFFY needs a Fancier Name, but more importantly, she needs a Loving Home .?
.. This longhaired Beauty Queen is 6 years old & was rescued by a kind person who witnessed someone trying to hurt her in Bay Shore.
Now FLUFFY is safe at Last Hope Wantagh in one of the recently redecorated Free Roamer rooms, but she longs for more than security. FLUFFY would love to have a loving & doting adopter.
Take a closer look. She was previously ear-tipped ,but you will also see her head and neck are jet black while her body is dark chocolate. So fancy.
That makes FLUFFY extra sweeeeeet.
If you are interested in learning more about them, please send us an email to adoptions@lasthopeanimalrescue.org or fill out an application from our website.
Come visit me at the Adoption Center in Wantagh, New York.
[contact-form-7 id="18343" title="mfmchugh"]