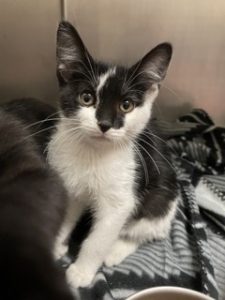 Gentle GINA is waiting to meet YOU She & her 2 brothers were rescued from under a shed Amityville when 10 weeks old. GINA has a cute smudgy face & an adorable way about her. She is almost 3 months old, petite & sweet and vet-ready to go HOME with YOU. Meet GINA at Petsmart Huntington…she is hanging out in a cage with her brothers- JIMMY & BRUCE. Together they are a feline fancy study in black & white kitten coat patterns. The boys are ready to go HOME too.
If you are interested in learning more about her and the boys too, please send us an email to adoptions@lasthopeanimalrescue.org or fill out an application from our website.
I've found my forever home! Thank you!