Gaze at GIZMO. Isn't he a Cutie?
GIZMO is a 1 year old Toy mix. He looks like a Yorkie , Cairn, Brussels Griffon combo.
GIZMO weighs less than 9 pounds and his tail is bigger than him.
GIZMO just arrived from a Kentucky Shelter…and is a little apprehensive when people try to pick him up quickly. This is understandable when a tiny dog is in a new environment.
GIZMO will do best in a home without small kids ( children 10 yr old or over).
You can meet adoptable dogs on weekends without an appointment.
On weekdays, please complete & submit a dog adoption application found on the Last Hope website homepage.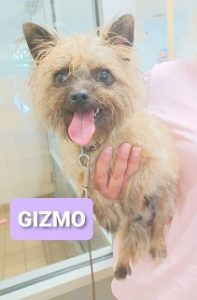 I've found my forever home! Thank you!