Put Your Pedal to the Metal, and Go to Meet GRETEL.
GRETEL came a long way through thick & thin to meet YOU.
In Feb. this 6 yr old sweetie (with shading similar to an Abyssinian) traveled 18 hours on a Georgia rescue transport with her 6 week old kittens to escape the fate of a Mama & kittens at a southern shelter overflowing with cats.
Her babies are settled in homes but GRETEL had to wait to spayed. GRETEL is ready to meet her public now at PetSmart Huntington.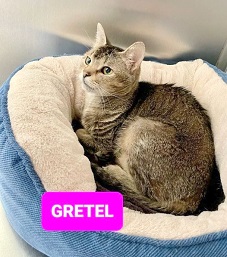 I've found my forever home! Thank you!