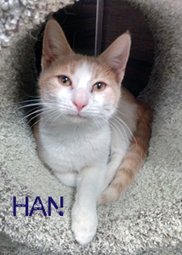 Here's HAN:
Looking for a sweet lap kitten? HAN is hoping to start a happy new year in his new home! Han is the last of our "Star Wars" kittens left after his siblings were recently adopted. The "Star Wars babies" were rescued at 11 weeks old in a remote Galaxy called Massapequa.
HAN was lovingly fostered & is now 4.5 months old.He just loves attention and is ready to meet you!
Visit him at our Huntington Pet-Smart at 350 Walt Whitman Road, Huntington Station!
I've found my forever home! Thank you!