Say HOWDY to HARLIE
She's a slim, trim, leggy Hound mix from a Hound-crowded Kentucky shelter.
She mosied up north to Last Hope on Long Island as a pup passenger on a rescue transport with her MiniMe daughter HANNAH. They were found together as emaciated strays.
HARLIE is only 22 pounds, 3 years old at most and very dear.
Speaking of deer, she is shaped like a fawn.
A tiny bit shy on her first afternoon in NY but we are sure she'll take a shining to New York hospitality soon.
No appointment needed to visit HARLIE or all Last Hope dogs from 10am to 6pm on weekends.
During the week to see HARLIE by appointment, please complete and submit a dog adoption application found on the Last Hope website homepage.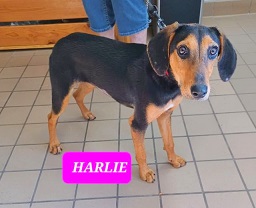 I've found my forever home! Thank you!