HIDE & SEEK are making their debut
public appearance right now.
But first, these 3 month old Beagle mix puppies traveled 2 days on a rescue transport to get to Last Hope.
They spent the week before at the Georgia Shelter learning how nice people can be, because it seems they had not been shown much kindness in their pre-shelter puppyhood.
These cuties will mature better in separate homes.
To meet HIDE and/or SEEK by appointment at Last Hope in Wantagh, please complete and submit a dog adoption application found on the Last Hope website homepage.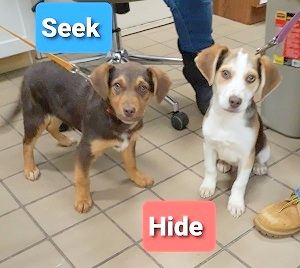 I've found my forever home! Thank you!