JUNE Knows "JUNE IS ADOPT A CAT MONTH", and the days left in June are winding down.
.
She would LOVE to be Adopted before the special month ends. She deserves this favor.
Her background story is sad. JUNE was rescued in a cemetery by a long time Last Hope volunteer.
She is only 2 years old & very friendly, but tested FIV positive which is no longer considered a serious situation by veterinary experts,. But the label FIV + makes some people shy about away from her cage.
FIV+ cats can live long, healthy lives.
JUNE is a charcoal Russian Blue Beauty – beautiful on the inside too.
Meet JUNE at Last Hope in Wantagh. Hurry, please..
     YOU have only a few days left to embrace her during ADOPT A CAT MONTH 2022.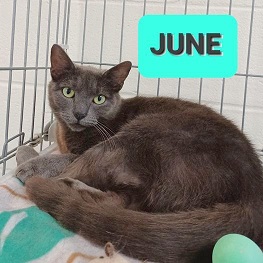 I've found my forever home! Thank you!