KATNIS Wants a Home for Christmas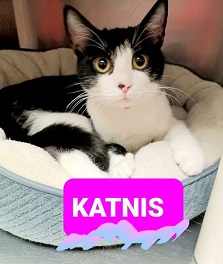 KATNIS : Her name sounds like Christmas, Catnip & Cuteness. This sweet kitten is all 3 wrapped in one adorable, purring package.
KATNIS is an 8 month old tuxedo with a pink nose & purrsonality plus. She is so friendly. Even when you are visiting the cats in the cages on either side from hers, you can see her tiny paw come around the bend, trying to tap you for attention.
So if you are interested in learning more about her, please send us an email to lasthopeadoptions@gmail.com or fill out an application from our website.
I've found my forever home! Thank you!