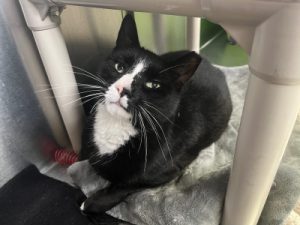 LEFTY Doesn't Want to be LEFT BEHIND.
"LEFTY from Lindenhurst" is what we call this distinguished tuxedo.
He was found to be friendly, far too friendly to be forced to forage for food outdoors.
LEFTY is about 3 years old. He has a fancy black & white nose…
and LEFTY is ready to leave for his FOREVER HOME.
Meet LEFTY at Last Hope in Wantagh.
Come visit me at the Adoption Center in Wantagh, New York.
[contact-form-7 id="18343" title="mfmchugh"]