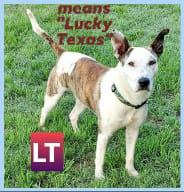 LT stands for "LUCKY TEXAS", and this
young Heeler mix named LT has been "Lucky in Texas" twice
First he was noticed by a Good Samaritan who saw him running as a stray all over in his Texas town. The Good Samaritan took him to the local shelter and paid for his neuter & rabies vaccine.
LT is supposed to be a very nice dog . He had been at the shelter awhile but ran out of time because some of the kennels are being emptied for renovations. This meant he would be euthanized.
A plea on his behalf went to Linda our Last Hope prez. She said Last Hope would be his "last hope". He is expected to arrive at our Adoption Center tomorrow Sat around 2 pm.
LT is the only new dog coming to us this weekend because we have no room.
To meet LT by appointment at Last Hope in Wantagh, please complete and submit a dog adoption application found on the Last Hope website homepage.
Come visit me at the Dog Adoption Center.
[contact-form 3 "Dog Adopt"]