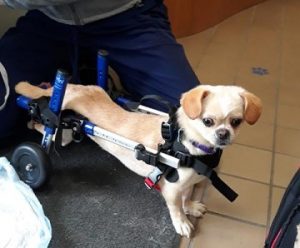 LUNA is in joint custody of Last Hope & Babylon Town Shelter. This tiny one-year old Pug/Peke had an untreated, broken back and severed spinal cord, most likely via blunt force trauma from an unknown source, that left her hind legs paralyzed.
She was surrendered to Babylon Shelter at the start of the NYS shutdown, and brought directly to NY Veterinary Specialists in Farmingdale where she spent the next month.
Luna was emaciated. At NY Vet, Luna was a princess patient. She was built up, given physical therapy and learned to race around in a wheel cart donated by kind clients whose paralyzed dog passed away.
When surrendered, the under-side of Luna's trunk and legs was covered with open abrasions from scraping her skin on different surfaces. These wounds are healing but are still visible.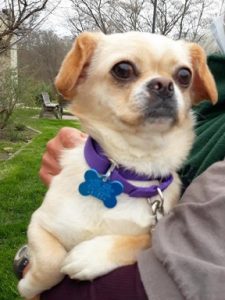 Luna has regained some feeling in her back paws, but she is not a candidate for spinal repair surgery because her injury was not treated soon enough. Continued physical therapy exercises will keep her rear leg muscles from atrophying and may bring back more sensation.
Presently Luna is in foster care with Jenna a NY Veterinary Specialists vet tech who also has a paralyzed Yorkie. Luna wears pup PJs to protect her skin when she is on the move.
A "drag bag" is on order. This is a fashionable outfit with increased padding for her skin. Luna has some control over her bodily functions, but does do better if her bladder is gently expressed about three times a day. She wears pants with a diaper when she's inside.
Luna is a puppy with plenty of energy. She can get up to speed dragging herself or in her cart. Luna refuses to act as if she has any physical limitations.
She likes other dogs and definitely wants them to play with her. She shares her toys and food.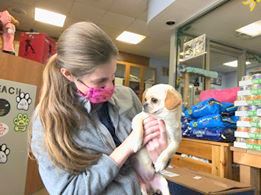 We are looking for someone as a foster-to-adopt owner who can commit to her care and bring Luna to her full physical potential. If interested in being Luna's Foster-to -Adopt pet parent please call 631-671-2588.
Luna is a sad reminder that our society and businesses may be "on pandemic pause", but animal abuse and neglect continue without missing a beat.
I've found my forever home! Thank you!