Meet MACK
This sweetheart is a Georgia Peach Transport Pup, rescued from crowded shelters.
He is 4 yr old with the size & shape of a small Lab (52 lbs.), color scheme of a Rottie and the heart & soul of a Honey Bun BUN Hound. A great combo.
.
Yesterday MACK pretended to be shy, hiding between a volunteer' s legs .
The he would pop out, and smooze with another volunteer like a toddler playing peekaboo.
To meet & smooze with MACK by appointment at Last Hope in Wantagh, please complete and submit a dog adoption application found on the Last Hope website homepage.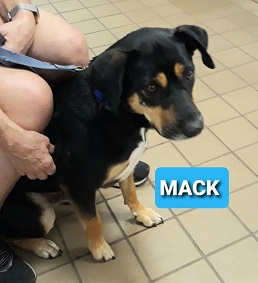 I've found my forever home! Thank you!