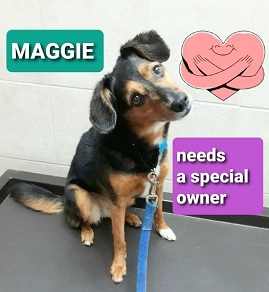 Searching for a Special Foster-to-Adopt Person for Miss MAGGIE
MAGGIE a petite Beagle mix first became a Last Hope dog in Dec. 2016 when she arrived on a Southern transport.
She has been in 2 homes with adopters who loved her despite her problem of separation anxiety.
She absolutely soaks up love & attention from people, but doesn't like to be left alone. MAGGIE also is not fond of other dogs so getting her a canine companion is not the solution.
MAGGIE is about 5.5 years old and 20 lbs.
One adopter brought her to work but there were times he needed to leave her alone there.
Last Hope would like to explore other options such as a thunder shirt, pheromone diffuser or a trial of a separation anxiety drug or combo of meds that will ease her stress but we need her to be in a home when fine tuning her therapeutic tools.
We are looking for a foster -to -adopt person who would be willing to work with us. Last Hope would be covering MAGGIE's medical expenses while we are working on getting her to relax when home alone.
Our goal is a happy & bonded duo of MAGGIE & her Main Squeeze(s).
I've found my forever home! Thank you!