Meet MICKEY
MICKEY comes from Georgia with a tail/tale of woe. He has a lot of baggage for a 22 lb. Chiweenie, about 3 years old. He's had it tough.
He was 1 of 27 dogs seized that had been tied outside in a yard . Even shelter in a shelter was a comfortable step up for MICKEY & his co-K9s.
Their owner, a repeat offender -which is often the case with animal hoarders, received stiffer legal penalties this time.
MICKEY and SPARKY from that yard came to Last Hope on the Saturday rescue transport. They are understandably frightened.
A dog's tucked-under tail is often the barometer of a dog's level of fear.
On Saturday afternoon MICKEY's tail was tightly tucked & he didn't want to go outside for a walk…Doubt if he was ever walked before except to go to the vet for interstate health clearance & to get onto the transport-both scary trips on their own.
Well, volunteer Eric who has great rapport with our scared pups, took MICKEY for his first fun walk.
On the way back, the tip of his tail was showing up high…and 2 days later MICKEY was greeting people from inside his kennel.
The Tail of Woe is over…Only good things are on the horizon for MICKEY from now on.
Our volunteers will shower him with love & attention…That's just the start.
And, hopefully, slowly but surely, MICKEY will find out THE BEST IS YET TO COME..
Yes, a REAL HOME is waiting for this adorable little fellow.
Meet MICKEY at Last Hope Dog Center in Wantagh to see if YOU will be ushering in MICKEY's fantastic future.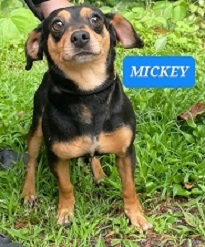 I've found my forever home! Thank you!