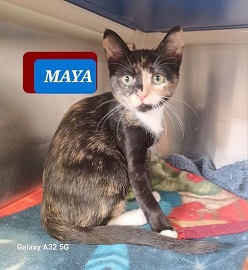 Oh, My, Oh, MAYA!
LOOK at this tiny tortie face!
MAYA was found at 3-4 weeks old, all by herself in Bay Shore yard.
It's possible her Mama was in the midst of moving her litter- something spooked Mama & baby MAYA got left behind.
MAYA was raised with other cats & dogs in Last Hope foster care.
She is 3.5 months old now. Miss MAYA plays & entertains visitors at our Wantagh Cat Adoption Center.
MAYA is Adorable & Adoptable.
There is ABSOLUTELY NO REASON FOR HER TO EVER BE LEFT BEHIND AGAIN.
I've found my forever home! Thank you!