MILLIE ROSE is a 7-8 month old Beagle but she has some puppy issues that need more training. 
She really needs a dog-savvy owner in a home with no kids or cats.
This Beagle babe is mouthy, has some food and toy aggression. Another Dog may be ok with her depending on the dog.
A potential adopter will need to be willing to work with our trainers.
Is that special owner for MILLIE ROSE a person like YOU?
To meet MILLIE ROSE by appointment at Last Hope in Wantagh, please complete and submit a dog adoption application found on the Last Hope website homepage.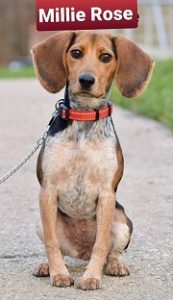 I've found my forever home! Thank you!