Meet Miss CHUNKY…
She's anything but chunky at a svelte 35 lbs.
More like Miss SPUNKY.
This 1 year old pup from the Georgia Shelter Transport yesterday is large Beagle size, and already happy to be with her new people- our Last Hope volunteers.
She is going to be a good companion dog, appreciative of love & attention.
CHUNKY needs a loving Home
   & a better Name.
To meet Miss CHUNKY by appointment at Last Hope in Wantagh, please complete and submit a dog adoption application found on the Last Hope website homepage.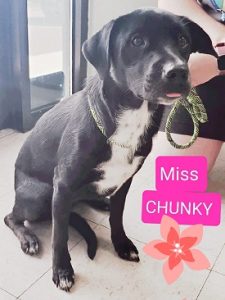 I've found my forever home! Thank you!