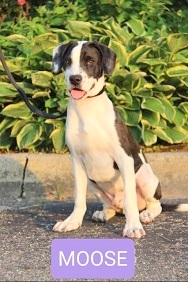 Meet MOOSE
MOOSE is a 4 month old Houndy mix pup from a Georgia transport. He already knows SIT & PAW. MOOSE is 30 lbs & looks bigger in this photo than he really is.
MOOSE would love to have an owner or family that will start teaching him household etiquette as he matures into a model dog citizen.
He should be with older kids because of his puppy clumsiness.. And also meet other dogs on a case by case basis because he may have to Curb his Enthusiasm.
To meet MOOSE by appointment at Last Hope in Wantagh, please complete and submit a dog adoption application found on the Last Hope website homepage.
Come visit me at the Dog Adoption Center.
[contact-form 3 "Dog Adopt"]