MUNCHKIN- Yes, he's small, but he thinks he's tall.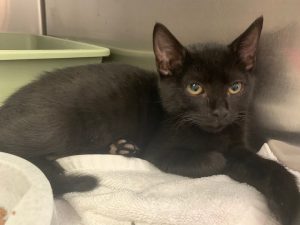 Our MUNCHKIN is almost 3 months old. He must have been very tiny when his 2 sisters were rescued at 7 weeks in Holbrook, but this tiny cutie stayed in hiding for another week and a half until he was rescued too.
MUNCHKIN's been in loving foster care until recently when he moved to our Cat Center in Wantagh, and to meet him by appointment, please complete and submit a cat adoption application which can be found on the homepage of the Last Hope website.
Come visit me at the Adoption Center in Wantagh, New York.