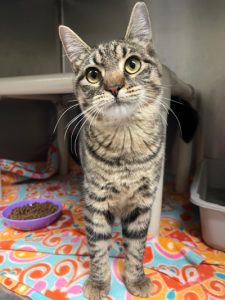 NAILA is trying to "nail" down some home prospects. She was taken out of a bad situation when trapped at 12 weeks old. NAILA was part of a large TNR effort at a Bay Shore home. Her trapper Renee became her foster Mom too. NAILA & kitten kin are 6 months old now. They have never known the cat comforts in a real home…but she's heard other cats whisper how great a real home can be. Come to Last Hope in Wantagh to meet NAILA…then you can work on the REAL home for HER too.
If you are interested in learning more about her, please send us an email to lasthopeadoptions@gmail.com or fill out an application from our website.
I've found my forever home! Thank you!