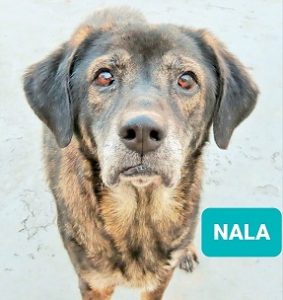 Adopt & Embrace NALA
This 10.year old dog was left behind in the house when her owner entered a nursing home.
The owner's sister came up from Florida and realized NALA was inside in terribly neglected condition.
The sister hadn't met NALA , even though the dog had been living there for years, perhaps 10 years.
This 45 pound Lab mix with Shepherd-style coat was surrendered to Babylon Town Shelter where she received TLC & medications.
Her skin has improved… Her digestive system is better… Her spike nails are trimmed.
Babylon Shelter asked Last Hope to take NALA so we could showcase her sweet temperament.
That's what we've done, and NALA's showcasing starts NOW.
Meet NALA at our Wantagh Dog Adoption Center any day from 10am to 7pm.
Come visit me at the Dog Adoption Center.
[contact-form 3 "Dog Adopt"]