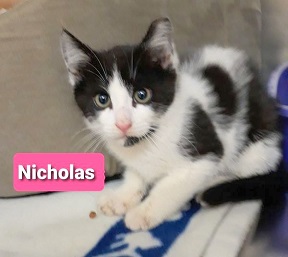 NICHOLAS the Nibbler is New & Unique.
NICHOLAS was the only "feral" of the 30 during Sunday's TNR clinic at My Pets Vet to join the Last Hope Cat Adoption Program.
NICHOLAS is a sweetheart about 3 months old. He was trapped in Bay Shore with his brother.
NICHOLAS is chilling out in Wantagh, recovering from his neuter. He is so dainty that he removes 1 piece of kitten kibble at a time to nibble when it is mealtime. . You can see the morsel on his towel near his nametag.
There were several public TNR clinics last Sunday. Seems his brother was scheduled for his neuter at another TNR clinic but the brother was turned down for surgery because he has an undescended testicle. He went back.to his trapper.
Last Hope is trying to locate the brother of NICHOLAS so we can put them back together. It shouldn't be hard.
To meet NICHOLAS, the one-at -a time, mini-morsel nibbler, please complete and submit a cat adoption application found on the Last Hope website homepage.
We will keep YOU posted on whether NICHOLAS is reunited with his brother.
I've found my forever home! Thank you!