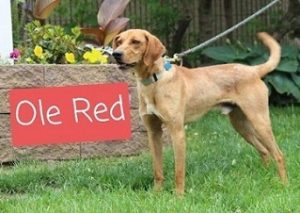 OLE RED is not Old. That's just a Southern endearment , but if it were truly an endearment he wouldn't be a homeless Kentucky dog..
This handsome hound is only 1.5 yr old & has plenty of youthful enthusiasm.
He likes other dogs & all people but his energy makes him more suitable for kids 10 or older, and to be with dogs who share his zest for playtime.
OLE RED has plenty of pup potential as a family dog..He'd enjoy long walks or hikes with his special peeps.
To meet OLE RED by appointment at Last Hope in Wantagh, please complete and submit a dog adoption application found on the Last Hope website homepage.
I've found my forever home! Thank you!