Our Beautiful & Incredibly Bright Border Collie from Georgia. She is named for Phantom of the Opera because of her gorgeous masked markings.
OPERA, a slim 40 pounds, 3 years old or younger, arrived at Last Hope on Wednesday & took little time to figure things out.
True to her breed ,she is energetic & intelligent . OPERA loves our play yard but right away she learned how to let herself out by flipping the latch up with her nose and jump up to push on the gate to open it.
She had a meet n greet with a potential adopter 's dog but she wanted to play with him a lot more than he did with her.
OPERA needs a person who will engage her mind & activity level- either an experienced herding dog person or someone who will get OPERA involved with agility or another performance sport.
Someone athletic who will hike & run with her, or someone who give her a job she will enjoy. Someone who will appreciate all she can be.
OPERA has tremendous potential to be a busy, brilliant, well-trained canine companion.
Last Hope would love to see her with someone who capitalizes on the Best in this Border Collie .
Remember on weekends you do not need appointments to see dogs. Last Hope is open to show dogs from 10 to 6 on Sat & Sun. However on weekdays you need to put in an online adoption application first and then you can see the dog by appointment. The application is on the Last Hope homepage.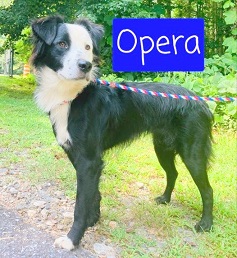 I've found my forever home! Thank you!