ORISA is a Beagle Beauty from a Kentucky Shelter, where the vast majority of Last Hope's many discarded Beagles derive.
She is sweet, 4 years old- a 25 lb pup package who will fill your life & home with lots of love…
Lots of Love has been lacking ORISA's life.
She began her pre-treatment for heartworm in her Kentucky shelter, and will be having her treatment of immiticide injections under Last Hope' s expense & monitoring.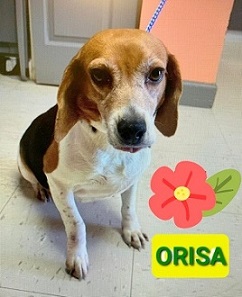 I've found my forever home! Thank you!