OSO is Oh So Sweet.
OSO is a 1.5 year old Shepherd/Heeler pup rescued from an overcrowded Georgia shelter.
He weighs 57 lbs & is full grown. Right now he's a little shy in his new NY environment, but once out of his kennel, OSO is a doll.
This darling dog has the DNA of 2 intelligent breeds.
OSO looks at YOU with LOVE in his eyes. Hopefully a smart & sweet potential adopter, visiting Last Hope in Wantagh, will gaze back at our boy OSO in the same way.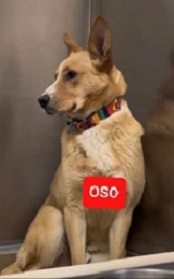 I've found my forever home! Thank you!