PEARL is a Pearl of a Girl.
PEARL made the short jaunt from Town of Hempstead Shelter to Last Hope next door.
This walk is filled with symbolism about her future. PEARL left a crowded municipal shelter with 100+ dogs for our private shelter with fewer than 20 dogs. (Town shelters must take in every stray dog found in their town by state law.)
PEARL's pearl of a girl temperament will be more visible in our smaller setting. She will be embraced by our 200+ volunteers, and can show off her love of people & kids to our volunteers & visitors.
PEARL was found as a stray, about 4 years old. She is compact- the size of a medium-size dog.
We were told PEARL is good with other dogs & cats too. She just got to Last Hope so we will be assessing her behavior with other dogs soon, and with cats, if she receives an approved application from someone owning cats.
Meanwhile, PEARL is super sweet, and a pup you'll want to meet.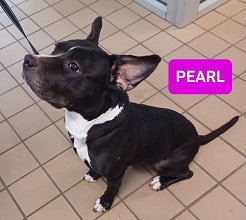 Come visit me at the Dog Adoption Center.
[contact-form 3 "Dog Adopt"]