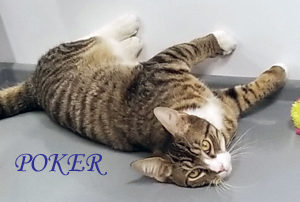 Poor POKER …
He doesn't need a Full House-only a House.
He doesn't need Two of a Kind-
just one Kind Person to Adopt Him.
They say if you are unlucky at cards, you are lucky at love.
7-month old POKER isn't lucky at either.
He's been dealt a bad hand so far.
He is the last kitten left from his "card game" litter that was rescued in Syosset.
It would be "Aces" if his KING or Queen of Hearts showed up to give him the forever home that he's been longing for.
I've found my forever home! Thank you!