Have a Heart for Our Heartworm Positive Foxhounds- PRINCESS ..
PRINCESS and her brother PRINCE each need  an individual  Foster- to-Adopt Home because they both tested Heartworm+.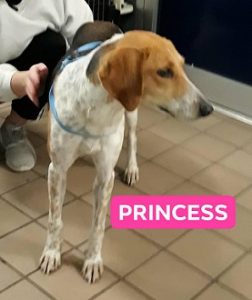 Last Hope will pay all veterinary expenses until they are treated for heartworm & test negative.
Separate Foster-to-Adopt Homes would be best because dogs undergoing heartworm treatment must remain quiet & low key for weeks after each immiticide injection.
Our relatively small Foxhounds came from a Virginia shelter. Actually, the American Foxhound breed originated in Virginia with the help of George Washington, a Foxhound fan.
PRINCE & PRINCESS are 2.5 years old. They are both sweet & loving, but energetic. They would each need a home without kids or with kids over 10 because they like to jump up.
PRINCESS is a bit more timid than her brother PRINCE.
** In 2020, Last Hope treated 10 heartworm positive dogs at a cost of about $1200 per dog- which means it cost us over $12,000 to cure these 7 dogs of this preventable disease spread by infected mosquitoes.
Owners pay much more for heartworm treatment than rescue groups do. Owners are much wiser & kinder to prevent their dogs from being infected with regular preventative meds than to allow their dog to become vulnerable to heartworm and treated after they become infected with this deadly disease.***
PRINCE & PRINCESS are our first 2021 heartworm positive dogs.
To meet PRINCESS by appointment at Last Hope in Wantagh, please complete and submit a dog adoption application found on the Last Hope website homepage.
Come visit me at the Dog Adoption Center.
[contact-form 3 "Dog Adopt"]