Poor RALPH lost his home when his Kentucky owners moved and turned him into a shelter.
RALPH would love to prove his devotion to a new family. He hopes they will treasure his "Beaglosity".
He is 3-5 yr old and has fun spunk. Ralph has a big presence. He lived with another dog… and can't figure out why he is homeless & transplanted to a new shelter setting.
To meet RALPH by appointment at Last Hope in Wantagh, please complete and submit a dog adoption application.
Bet you RALPH will tell you his tale of woe.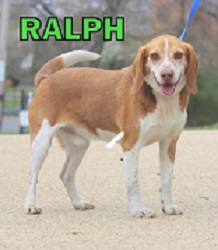 I've found my forever home! Thank you!