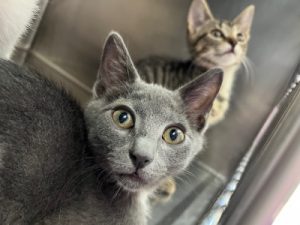 This Is US- We're TOO CUTE!
RANDALL, KEVIN & KATE would like to introduce themselves. These siblings are 2.5 months old, and truth be told- they are too cute.
These 3 were found under a shed in Melville at 5 weeks old, were socialized & nurtured in Last Hope foster care- and now they are making their adoption debut at Last Hope in Wantagh.
Don't Wait or Hesitate. Go see them. KEVIN's gray bangs are hard to resist.
If you are interested in learning more about them, please send us an email to lasthopeadoptions@gmail.com or fill out an application from our website.
I've found my forever home! Thank you!