Last month puppy REGAL came into a Kentucky shelter with a broken paw.
The shelter sent her for xrays, and then had her paw set in a cast.
She had several re-checks at the same vet. Now at 6 months old, smooth Collie mix REGAL is ready for the Feb.11th  transport to Last Hope.
REGAL is a sweetheart and will continue to get the royal treatment at Last Hope …which she truly deserves.
We will be looking for a FOREVER HOME for this Pup Princess soon.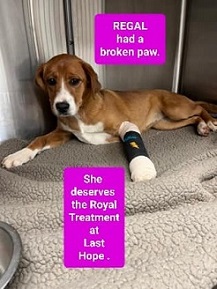 I've found my forever home! Thank you!