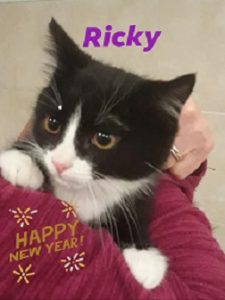 RICKY and his littermates moved from foster care to Petco Syosset on New Year's Eve. They are only 3 months old and super cute.
His litter was rescued from a Westbury backyard when only 6 weeks old.
RICKY a tuxedo  hopes to follow in the pawprints of his 2 other tuxedo brothers who were adopted quickly from Petco Syosset.
To meet the tux boy terrific- RICKY – by appointment, please complete and submit a cat adoption application found on the Last Hope website homepage .
I've found my forever home! Thank you!