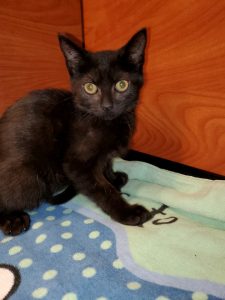 RONALD wants to announce: "Me & my brother Grimace are ready for our forever homes. Our brother Nugget was recently adopted."
Months ago we were trapped outside the McDonald's in North Babylon, thank goodness, since we were outside by ourselves at only 6 weeks old. Then we were treated so nicely in Last Hope foster care.
Get it -NUGGET…and RONALD…McDonald's?? Grimace…not sure about that one! Well, we are settling in at Petsmart Bellmore and we are hoping crowds of possible adopters rush in to meet us. We are 3 month old cuties, neutered, socialized & knowledgeable about fast food.
Please. We want to be Your Forever "Take-Out". Get it?
So if you are interested in learning more about me, please send us an email to lasthopeadoptions@gmail.com or fill out an application from our website.
I've found my forever home! Thank you!